A Bit About Us
We're a real family run pie company!
WITH 18 (YUP 18) CHILDREN WE KNOW THE IMPORTANCE OF PROVIDING FRESH, HEALTHY FOOD FOR EVERYONE!
The Radford Family
Hello, I'm Noel! Some of you might know me and my family from our TV programme 15, 16, 17 and (quite recently) 18 Kids and Counting from Channel 4. You guessed it, we are Britain's biggest family!
We have owned our own lovely bakery since 1999 which is how we manage to provide for (and feed) our huge and expanding family as well as for the local people of Heysham and Morecambe.
We have set up our on-line pie shop so we can share our very popular pies with you all. We're a real family business with both myself and Sue working at the helm along with some of our children to help us.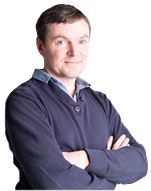 Noel
Hi I'm Noel and I've worked as a baker for over 25 years having worked in several bakeries over the years from a trainee to a manager and for the last 16 years owner of our bakery in Heysham, Lancashire. My job is to ensure the smooth running of the business and future developments such as creating new pie recipes.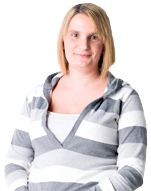 Sue
This is my wife Sue. When she doesn't have her hand full with the kids Sue over sees all the orders coming in and going out and acts as chief taste tester! If a pie isn't up to scatch we will know about it!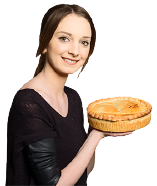 Chloe
My daughter Chloe is the next generation of artisan pie maker! She has helped me make pies in our bakery shop for 5 years and knows the secret to a good pie is patience. She also makes suggestions for delicious new recipes.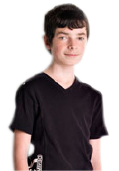 Daniel
Daniel helps Sue and I with anything from taking orders, preparing pies ready for delivery to making sure everywhere is spotless after a long day of pie-making. It's no secret that he'd rather be a professional football player!
Our pies are full to the crust!
Apparently size really does matter
Standard Pie: 280g - Family Sized Pie: 1850g
Things to know About ordering online
WHERE DO YOU DELIVER?
We cover mainland uk (Scottish Highlands, Jersey, Guernsey will incur an extra charge please call for details)
HOW MANY DAYS WILL THE DELIVERY TAKE TO ARRIVE?
Within 4 working days (usually before).
CAN YOU DELIVER ANY DAY OF THE WEEK?
Friday, Saturday and Sunday orders will be sent Tuesday.
HOW DO I COOK MY PIES?
You can cook the family pies in just 25 mins at 180°C / 160°C fan / 350°F gas mark 4 or the standard pies for 20 minutes.
HOW SHOULD I STORE MY PIES?
Your pies will arrive in a temperature controlled box. They will need to be placed in the fridge on arrival before the end of the day.
Try our other pies!
We have a selction suit everyone from Incredibly Meaty to Totally Veggie!
Show me!